Having a easy life with my Addmotor Electric tricycle
Choose your dream Electric Bike!
By Muriel |
20
April 2021 |
0
Comments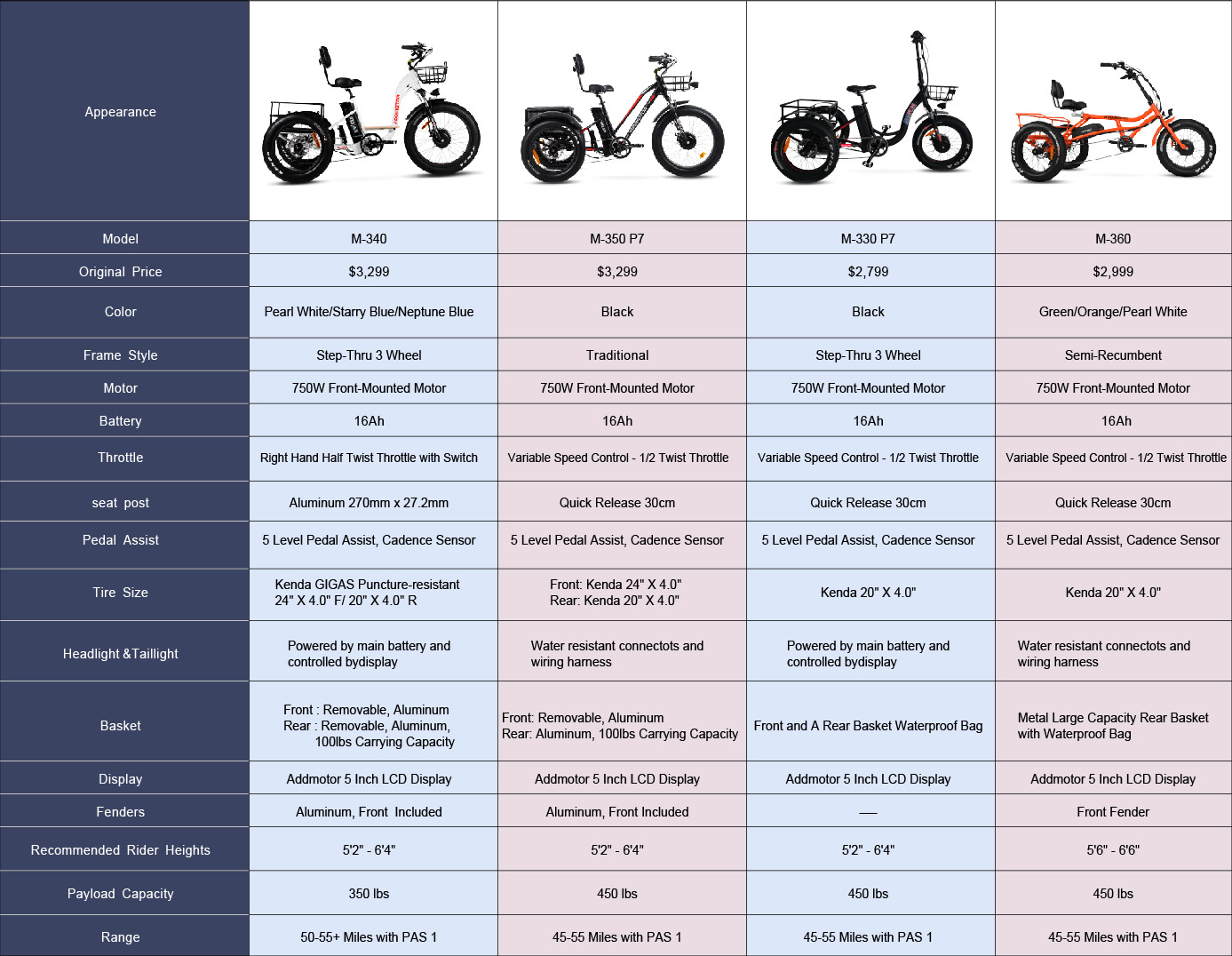 "Most often, It's troublesome to drive when I went to a supermarket to get something. What makes me a headache, it's not easy to bring things on a normal bicycle."

"We wanna have a picnic on the beach this weekend and we prepare some food, drinks and game. It would be perfect if we have a tricycle."

"Mr. David will hold a party this afternoon, he has ordered some cases of beer from us and wants them to be shipped soon, but there is a traffic jam outside now, what should I do?"

"My brother is physically disabled and can't ride a normal bicycle, but I don't want to always stay at home, do you have any good recommendations?"

"Green travel is all the rage now and we are encouraged to take care of the earth by walking and cycling more, but when we carry something heavy it will be a huge problem."
The above problems might be encountered in our daily life. What solution could we have? Today, We're going to recommend the Addmotor* electric tricycle series:
https://www.addmotor.com/products/m-340
https://www.addmotor.com/products/m-360
https://www.addmotor.com/products/m-350-p7
https://www.addmotor.com/products/m-330-p7
First, let's find out some advantages of the electric tricycle:
•

The structure of the frame is stable and comfortable which offers

perfect stability and balance, even if the body is not fit, one who cannot walk can also easily ride the tricycle without the need to pay too much attention to balancing the bike. It's then much better to be able to appreciate the sceneries during the trip.
•

The e-tricycle is with a brand new design on the fat tire which is especially suitable for the beach cruising, It will definitely be a new good way

of sightseeing travel.
•

High quality and large capacity lithium batteries offer an indispensable strong power. With BAFANG three-phase motor and water-proof and moisture-proof integrated wiring, you can freely and rapidly shuttle everywhere inside the city.
•

There is no pollution when cycling, which contributes to environmental protection. It can be charged at night, making full use of the power resources, providing social benefits of energy saving.
•

It is also equipped with a variety of accessories such as handlebar mirrors, baskets, rear fenders, protective covers, etc.
But how to choose a suitable e-tricycle that fits yourself? Now, let's study among four kinds of Addmotor E-tricycles!
First of all
,
Let
's introduce you to this latest released model M-340 E-tricycle: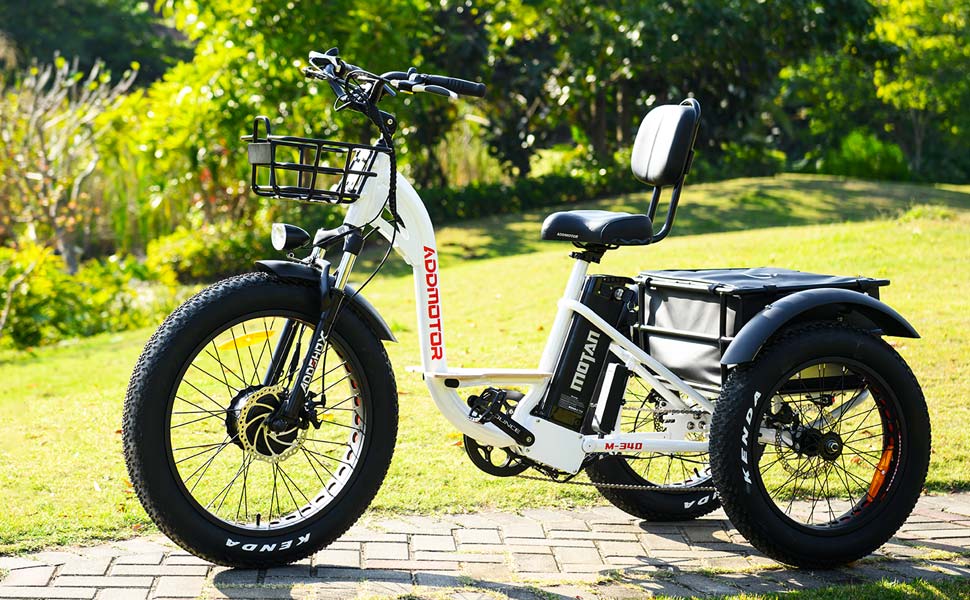 It's a Full-Featured 3 Wheel Electric Bike which is the trendy item in the 2021 electric trike market.
The M-340 e-trike comes with useful accessory parts such as a 48L waterproof large storage basket, which can carry up to 100lbs; the upright posture which has a swan looking; and the Addmotor exclusive well-padded saddle with backrest will make your trip more comfortable as well!
The most interesting design of the M-340 is the easy access step-thru frame design which lets riders easily get on and off the bike. Thanks to the wood board, you can rest your legs or carry some stuff on it.
https://www.addmotor.com/products/m-340
Time to
talk about our M-330, the classic E-tricycles model: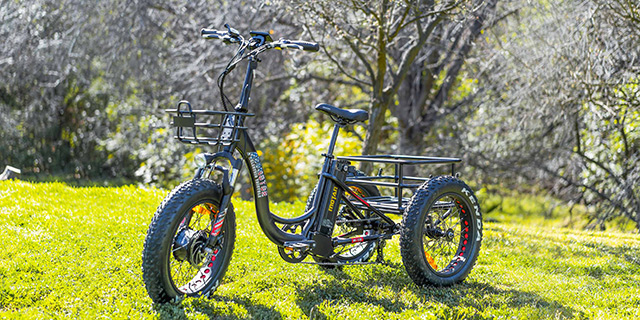 The frame is made of 7075 aluminum alloy, which is firmer than the 6061 aluminum alloy in the market and has higher adaptability to external environment temperature change.
The 20 " x 4" fat tire, 750W BAFANG motor and lithium battery, front fork, thick bent tube design, all make it convenient for women, the elderly, or cyclists with some kind of disability to get on and off.
The handlebars also have folding and height adjustment functions. The tricycle can be
adjusted according to the rider's height. In addition to the rear basket, it is also equipped with a front basket to facilitate the rider to place small items such as handbags.
Winner, Best Value Fat Electric Trike of 2020!
https://www.addmotor.com/products/m-330-p7
The third one, we
'
re
going to
discuss
our M-350, the comfortable E-tricycles model: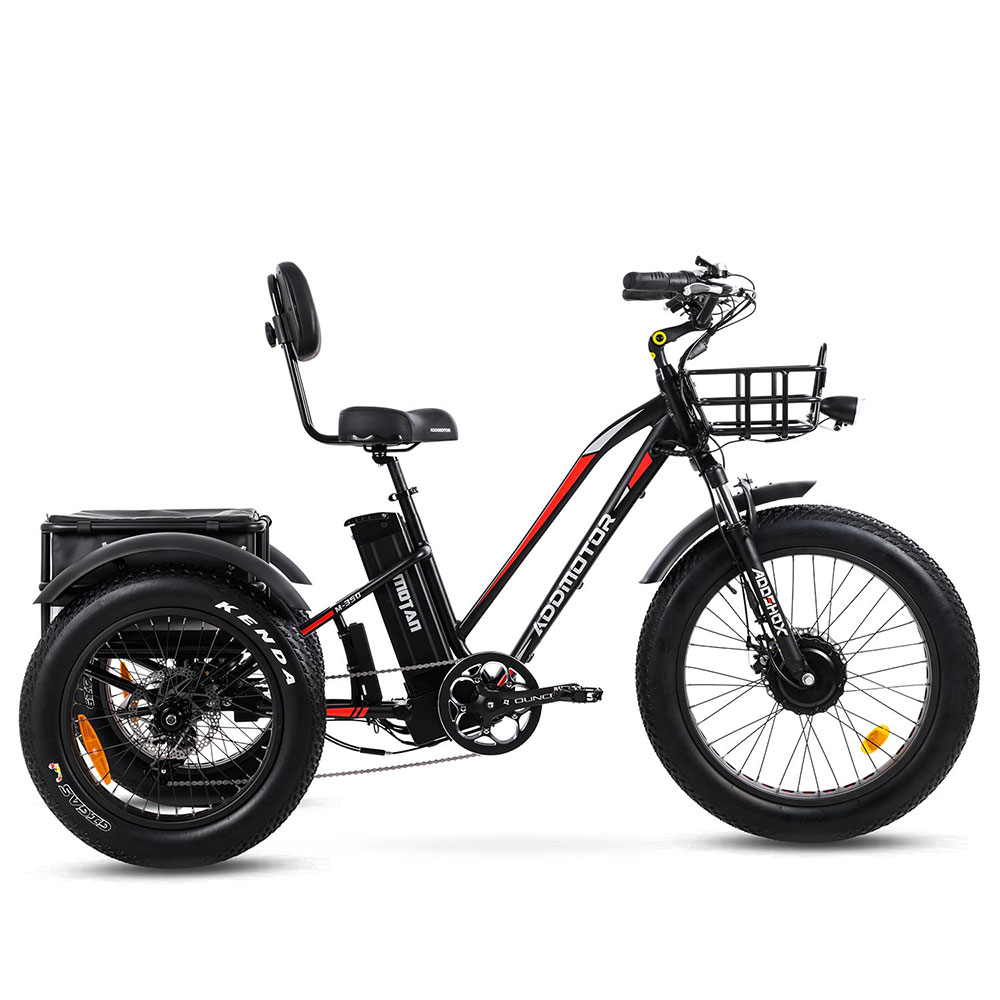 The electric tricycle is the perfect companion for an off-road adventure. We've changed a brand new design of this E-bike. It's more
The 24 "
x
4" front wheel rolls over anything in your way and the 20 "
x
4" rear wheels lower your center of gravity for stability, and the handrail has the function of angle adjustment and the front suspension and suspension seat column are matched, which greatly improves the rider's comfort even on rugged terrain;
With a battery capacity of up to 16Ah and a 750W BAFANG motor, it is a super powerful tool that allows riders to travel easily no matter how much weight they carry.
In addition, due to the configuration of fat tires, there should be no worry about the gravel, grassland because they can be easily handled with the front fender and available rear fenders.
A true King of comfort!
https://www.addmotor.com/products/m-350-p7
Finally, come to our exclusive M-360, c
oo
l E-tricycles model: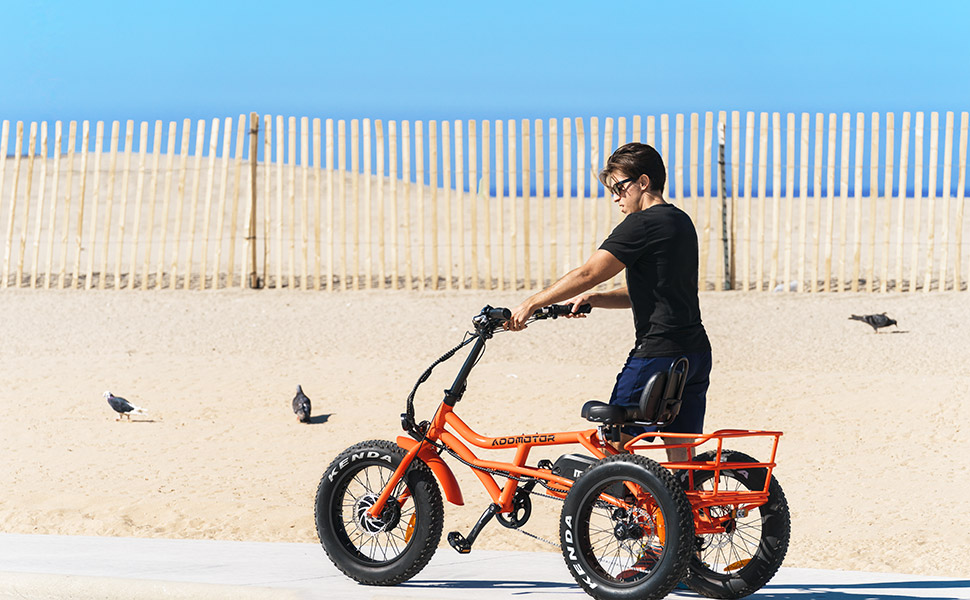 This is our Addmotor patent design model, it uses 7075 aluminum alloy material and is in unique and strong shape;
The crank forward and backrest allow you to ride in a comfortable semi-horizontal posture;
More features of M-360 are: the 160mm double rear disc brakes and the 180mm front disc brake to ensure an absolutely safe stop, large horn and headlights with all light sound powered by the main battery. The tail lights with brake warning function are activated when braking, offering safety for riding at night or on dark roads.
In a word, it is an E-tricycle with stability, power, comfort and safety.
Due to its model design, it is suitable for tall cyclists with a height range of 5 '6 "~6' 6".
Ride on the M-360, be it on the streets, beaches or grassland, you will become a cool gens!
https://www.addmotor.com/products/m-360
Leave a Reply
Your email address will not be published.Required fields are marked. *